Big Easy Bold                         K-Cup® Coffee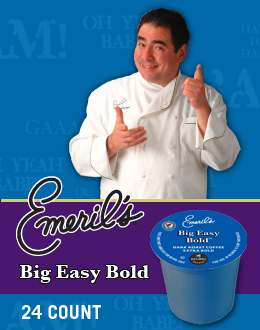 Dark, Robust, Bold. This classic Parisian roast is a thick, hearty blend. Its deep, dark color and invigorating aroma will definitely kick it up a notch. Big Easy Bold uses 100% Rainforest Alliance Certified coffee beans.
Parisian roasted for a deep, intense flavor.
Sourced from all over the world, Emeril's® coffees represent the highest standard of excellence. These robust and sumptuous coffees create a flavorful cup that meets the exacting standards of Emeril Lagasse himself.
About Emeril's®
A chef's schedule sometimes starts as early as 6:00 am. Receiving product, analyzing the menu and meetings with staff all happen after my first cup of coffee. Those who know me best know that I like to start my day with a robust, sumptuous, flavorful cup of coffee. Good coffee is very important to me and why I wanted to share this super-premium coffee with you. Sourced from all over the world, these coffees represent the highest standard of excellence. Each bean is skillfully blended and roasted to perfection so that we can deliever the best tasting cup of joe possible. Enjoy! – Emeril Lagasse