Chocolate Glazed Donut K-Cup® Pack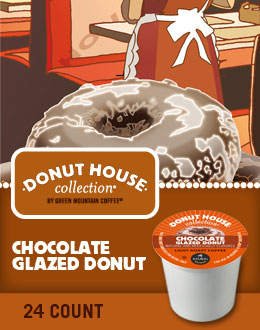 If you're lucky, the best cup of joe is right around the corner. You can pick up your brew and a dozen to go. The rest of us rely on the Donut House Collection® — Coffees with rich, bold flavor and a little kick to get you going. Good, straightforward coffees that will remind you of the days when you knew what to expect and were never disappointed.
Nutritional Information: Our flavored coffees are free of calories and carbs, and have no additional nutritional impact. We add no sugars or sweeteners of any kind. So while our flavors may taste indulgent, they're absolutely guilt-free.
This product is certified kosher by the Orthodox Union.