Daybreak Morning Blend K-Cup® Coffee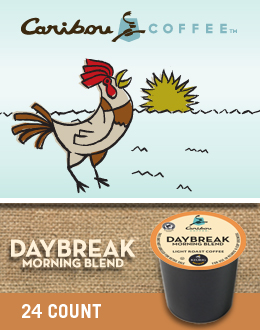 Daybreak Morning Blend gets you up and out on the right side of the bed. Costa Rican, Guatemalan, Colombian, and just a hint of Ethiopian beans are roasted to chocolate brown for this light re-energizer. Unassuming and cheering, this coffee starts sweetly and quietly in the mouth and leaves you with fruity, nutty hints after each sip. Perfect for slow mornings or those days you have to rush to work! Daybreak is a Rainforest Alliance Certified coffee.
About Caribou Coffee®
Caribou Coffee is a well-respected roaster that runs over 400 gourmet coffee houses in the Midwest, Rockies, Southeast, and Mid-Atlantic. That same coffee house quality is now available at the office with the convenience of K-Cup portion packs and single-cup brewing.