Decaf Italian Roast              K-Cup® Coffee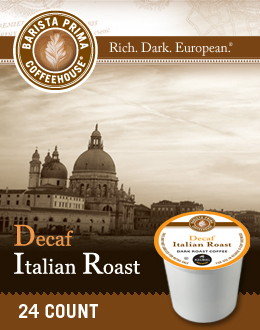 This robust, heavy-bodied decaf with its ripe fruit and berry notes epitomizes the time-honored Italian tradition of dark-roasted coffee house brews. Bold yet ideally balanced, with a subtle hint of smokiness and a bright clean finish, our Italian Roast is a hearty and flavorful testament to the art of dark roasting. Its uniquely potent flavor profile has been masterfully crafted to occupy a special niche between the bright, bold taste of our Colombia offering and the intense, smoky-sweet essence of French Roast. A discriminatingly versatile cup: the ideal accompaniment to sunrise, or the perfect ending to an unforgettable meal.
About Barista Prima®
A passion for rich, deep-roasted brews lies at the heart of Barista Prima Coffeehouse®, an exclusive collection of the world's finest Arabica coffees roasted in the tradition of Europe's most celebrated coffee houses. Bold and complex, yet perfectly balanced, each cup reflects the consummate artistry and handcrafted care that only the most skilled baristas can deliver.
Enjoy the art of the coffee house in your own home, one fresh cup at a time.