Donut Shop Decaf       K-Cup® Pack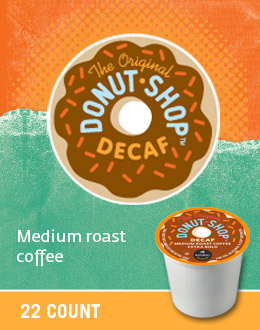 Remember the good ol' days (but don't stay up all night doing it) with this sweet, full-bodied all-American classic. Decaffeinated. Extra bold. 22-count box.
About Donut Shop™
Some people won't admit it, but the best part of a donut is the coffee that goes with it. Without coffee, donuts are just another confection. But Donut Shop Coffee? That's a different story. The Original Donut Shop™ Coffee lingers on your tongue and warms the soul. It brightens your day like a big scoop of sprinkles. And who doesn't like sprinkles? If you go through life as if it's a sweet surprise filled with jelly and covered in frosting, The Original Donut Shop™ Coffee is for you.