French Roast                              K-Cup® Coffee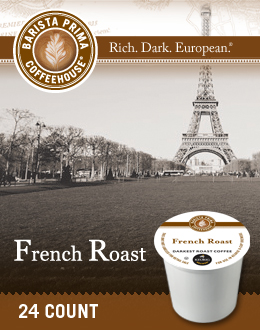 A sweet, smoky love song to the cafés of Paris. Daringly dark, smoky-sweet with a surprisingly light mouthfeel.
This intensely bold, elegantly-bodied cup provides indisputable proof of our roast masters' consummate artistry. Highest quality Arabica beans are guided to the very edge of noir – just beyond their second crack – then eased back, masterfully, to reveal their rich, full-flavored complexity. It's a delicate balancing act that demands beans of the utmost quality; high altitude Arabica capable of withstanding the intense heat demanded by this darker roast. Barista Prima Coffeehouse® roast masters excel at carefully monitoring the tenuous balance between roast and flavor that results in a daringly dark, smoky-sweet brew with a surprisingly light mouthfeel. The ultimate proof? It's in your cup.
Click here to learn more about Barista Prima Coffeehouse®.
About Barista Prima®
A passion for rich, deep-roasted brews lies at the heart of Barista Prima Coffeehouse®, an exclusive collection of the world's finest Arabica coffees roasted in the tradition of Europe's most celebrated coffee houses. Bold and complex, yet perfectly balanced, each cup reflects the consummate artistry and handcrafted care that only the most skilled baristas can deliver.
Enjoy the art of the coffee house in your own home, one fresh cup at a time.