Green Tea                                  K-Cup® Pack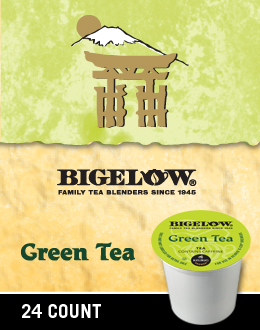 Never grassy or astringent, Bigelow Green Tea has been expertly grown and gently processed to deliver delicately rich green tea flavor.
Mother Nature gave us a wonderful gift when she packed powerful antioxidants into green tea. But not all green tea tastes the same. At Bigelow Tea, we use all-natural teas from the finest high elevation gardens that have been gently processed to produce a green tea that's never grassy or astringent. Its delicately rich flavor is what sets it apart from all others, and makes Bigelow Green Tea the tea of choice for millions of Americans who make green tea part of their healthy lifestyle.
For three generations, the Bigelows have been dedicated to creating and blending deliciously different, world class teas for health and enjoyment. Tea is their passion. Bigelow Green Tea is one we know you will enjoy!
– Eunice & David Bigelow
Family-Owned Since 1945
Ingredients: green tea
Tea is a Gluten Free beverage.
About Bigelow®
For three generations, the Bigelow family has specialized in creating deliciously different, world class teas.