Hawaiian Blend          K-Cup® Pack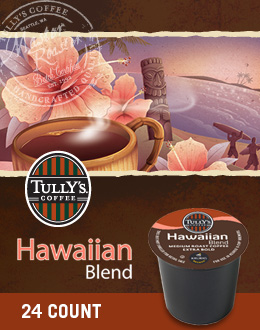 Beautifully balanced, with a mild sweetness and an elegant simplicity. Contains 10% Hawaiian coffee and other fine Arabica beans.
Like a well-deserved vacation, this variety holds a special place in our imagination. Maybe it's the mild sweetness and elegant simplicity. Or maybe it's because some of the best coffee we've ever tasted has been on an island, surrounded by tropical breezes. Either way, our Hawaiian Blend is a place we want to be. Contains 10% Hawaiian coffee and other fine Arabica beans. Product cannot ship to Hawaii.
About Tully's®
Some professionals need to approach their jobs slowly and with a great deal of care. Like tightrope walkers. Or brain surgeons. Or tattoo artists. At Tully's®, the same holds true for creating great coffee. It takes a lot of time and patience, which is why we slow roast our coffee beans to gently coax out the complex flavors and aromas. With roots in the Pacific Northwest, where coffee is a way of life, we take our time in roasting and in training each master roaster in our artisanal approach. From the aroma to the full-bodied flavor, you can taste the time taken in every satisfying cup of Tully's. Now we invite you to take your time discovering it.