House Blend             K-Cup® Coffee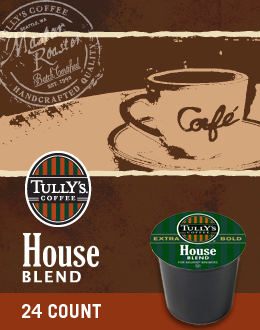 Tully's signature blend is wonderfully balanced, buttery smooth and sweet with medium body.
This coffee boasts a distinct brightness in the forefront, yet it is well rounded throughout. The bitter chocolate flavor is calmed by sweet caramel undertones and finishes with a lingering astringency. This coffee is friendly enough to drink black but just as friendly with a touch of milk and sweetener.
Tullys House Blend K-Cup® portion packs are certified kosher by the Orthodox Union.
Rating: 86 Points (out of 100)

Mildly sweet aroma, cinnamon toast, distant hint of citrus. Medium body, with some astringency in mouthfeel, and a suggestion of bright acidity. A mellow, straightforward cup, with notes of nut and toasted grain. Roastiness lingers in the finish, along with sweet wood and a stubborn astringency in the long.
– Kenneth Davids, CoffeeReview.com, January 2009
About Tully's®
Some professionals need to approach their jobs slowly and with a great deal of care. Like tightrope walkers. Or brain surgeons. Or tattoo artists. At Tully's®, the same holds true for creating great coffee. It takes a lot of time and patience, which is why we slow roast our coffee beans to gently coax out the complex flavors and aromas. With roots in the Pacific Northwest, where coffee is a way of life, we take our time in roasting and in training each master roaster in our artisanal approach. From the aroma to the full-bodied flavor, you can taste the time taken in every satisfying cup of Tully's. Now we invite you to take your time discovering it.