Rainforest Espresso® K-Cup® Coffee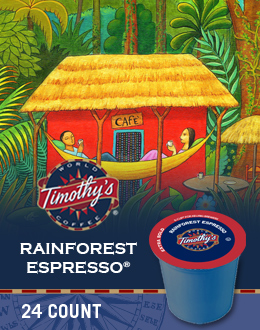 A sweet, smooth and richly satisfying pause in your day. This selection is 100% Rainforest Alliance Certified, helping to promote sustainable agricultural practices, protecting ecosystems and the people and wildlife that depend on them.
Timothy's ethical and exceptional specialty-grade coffees are sourced from the top coffee growing regions of the world and then roasted to perfection, highlighting the unique characteristics of the land in which they were grown.
Rating: 85 Points (out of 100)
Delicately roasty aroma with distant hints of fruit and possibly a sweet winy note. Soft acidity and simple flavors that flirt with caramel and toast. The roast tone reemerges in the finish, along with intensified sweetness.
— Ken Davids, CoffeeReview.com, April 2010