revv® K-Cup® Coffee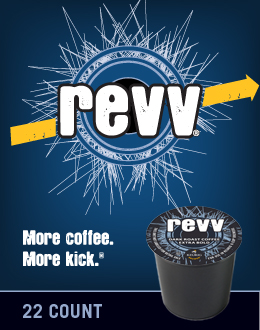 A straight shot of stimulation. Raw energy in its purest form.
This product is available to ship only to addresses within the United States.
revv® packs more rich, smooth coffee into every K-Cup pack, so you can super-charge your day, without extra sugar or calories. Take a bold move forward. Launch into life with revv®.
Rating: 86 Points (out of 100)
Sweet-toned aroma with suggestions of caramel, smoky scorched wood and toast. In the cup, medium-bodied and lightly syrupy in mouthfeel, with a continued bittersweet, gently scorched wood character complicated by muted caramel and chocolate notes, all of which carry into a rich, briskly astringent finish.
– Ken Davids, CoffeeReview.com, April 2010