Southern Sweet Perfect Iced Tea               K-Cup® Pack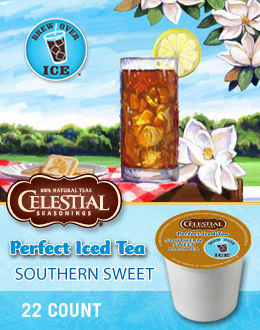 A Southern tradition perfected! High-quality black tea and natural milled cane sugar combine to create a distinctively Southern sweet tea.
Robust and smooth, our Southern Sweet Perfect Iced Tea has just the right amount of natural cane sugar for a distinctively Southern sweet taste. It's refreshing enough to quench your front-porch thirst on even the hottest of summer afternoons.
Nutritional Information
Ingredients:
Evaporated Cane Juice, Black Tea, Tricalcium Phosphate (a natural free flow agent), and Natural Sweetener (Stevia Extract).
Brewing Tips:
Fill a tall (16 oz.) cup (do not use glass) with ice and place under brewer. Shake K-Cup and place in brewer. Choose your brew size (6 or 8 oz.) and press "brew." Add additional ice as needed.
A whole new way to enjoy your Keurig® brewer. Just in time for backyard barbecues and parties by the pool! Your Keurig brewer now makes delicious, refreshing iced coffee and tea at the touch of a button. Our new Brew Over Ice K-Cup packs contain more coffee or tea—the perfect amount to create a cool, breezy brew. They're specially designed to brew directly over ice.