Sweet & Creamy Nutty Hazelnut Iced Coffee K-Cup® Pack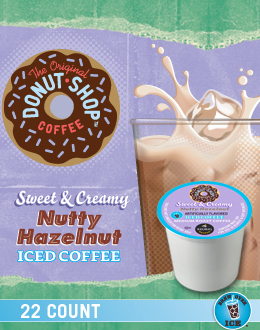 Craveable, raveable, roasty and toasty. A sweet ode to joy on ice.
Before coffee was complicated, great coffee was simply fresh, bold, and flavorful. Donut Shop brings back the classic donut companion with this ideally balanced brew of the highest quality Arabica beans.
These Sweet & Creamy K-Cup® packs have everything you need to create a perfectly brewed, perfectly sweetened, perfectly creamy iced coffee. Just pop one in your Keurig brewer, brew over ice using the 6-ounce setting, and enjoy!
Nutritional Information
About Donut Shop™
Some people won't admit it, but the best part of a donut is the coffee that goes with it. Without coffee, donuts are just another confection. But Donut Shop Coffee? That's a different story. The Original Donut Shop™ Coffee lingers on your tongue and warms the soul. It brightens your day like a big scoop of sprinkles. And who doesn't like sprinkles? If you go through life as if it's a sweet surprise filled with jelly and covered in frosting, The Original Donut Shop™ Coffee is for you.