Sweet Raspberry  Iced Tea K-Cup®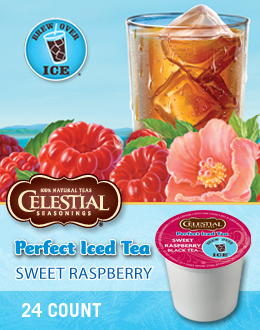 Black tea with luscious raspberry flavor. A thirst-quenching combination of rich black tea, natural cane sugar and tart and tangy raspberry flavor.
Our Sweet Raspberry Perfect Iced Tea combines full-bodied black tea with natural milled cane sugar and a vibrant splash of juicy raspberry flavor to create a perfectly tart and tangy and uniquely thirst-quenching raspberry iced tea.
"This lively, refreshing iced tea begins with a robust blend of fine black teas from around the world. Celestial Seasonings® black tea's slightly floral quality is the perfect accompaniment to a vibrant splash of refreshingly tart and juicy raspberries and just the right amount of natural milled cane sugar. This perfect combination of rich tea and tangy fruit creates a truly thirst-quenching all-natural iced tea."
–Charlie Baden, Celestial Seasonings Blendmaster Since 1975
Nutritional Information
Ingredients: Evaporated Cane Juice, Black Tea with Tea Extract, Hibiscus, Natural Raspberry Flavor with Other Natural Flavors (Contains Soy Lecithin), Citric Acid and Tricalcium Phosphate (a Natural Free Flow Agent) and Natural Sweetener (Stevia Extract).
Brewing Tips:
For best results, we recommend that you fill a tall (16 oz.) cup (do not use glass) with ice and place under brewer. Shake K-Cup and place in brewer. Choose your brew size (6 or 8 oz.) and press "brew." Add additional ice as needed.
A whole new way to enjoy your Keurig® brewer. Just in time for backyard barbecues and parties by the pool! Your Keurig brewer now makes delicious, refreshing iced coffee and tea at the touch of a button. Our new Brew Over Ice K-Cup packs contain more coffee or tea—the perfect amount to create a cool, breezy brew. They're specially designed to brew directly over ice.