Vanilla Chai                                K-Cup® Pack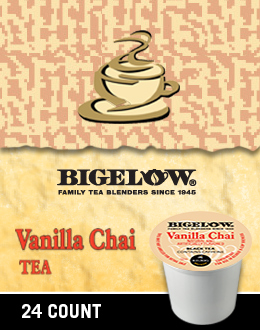 Bigelow's Vanilla Chai is a bold, new way to enjoy Chai. Sip and embrace the enchanting flavors of creamy vanilla and exotic spices that are sweet and spicy all at the same time.
Family tea blenders since 1945, the Bigelow family delights in crafting deliciously different teas for your enjoyment.
By adding the smooth, creamy taste of vanilla and the perfect balance of exotic spices to rich, hand-picked black tea, Bigelow's Vanilla Chai takes Chai up a notch to create a bold, new way to enjoy this popular favorite.
A touch of milk and a little sweetener brings out the wonderful marriage of flavors to create a superb flavor sensation that's sweet and spicy, all at the same time.
Ingredients: black tea, spices, natural and artificial flavors (soy lecithin).
About Bigelow®
For three generations, the Bigelow family has specialized in creating deliciously different, world class teas.