Dark Chocolate Hot Cocoa K-Cup® Pack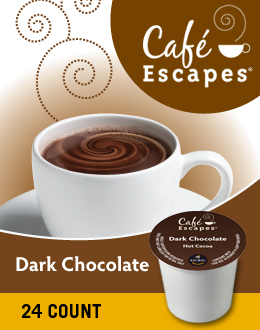 An elegant and satisfying dark chocolate experience, with rich European sophistication. Dark Chocolate Hot Cocoa intensity at the touch of a button! Developed expressly for your Keurig brewer.
Escape with the rich, sophisticated flavors of Dark Chocolate. Café Escapes creates dessert in a mug – a treat for any time of day.
Sourced in Europe from expert chocolatiers, this drink provides deep chocolate satisfaction with the convenience of a K-Cup pack. A decadent, dark cocoa that will appeal to all ages.
Notes: This product contains milk, soy and tree nuts (highly refined coconut oil). Product is trans fat and gluten free. Caffeine content is estimated at less than 10 mg per serving (versus 100-150 mg in Arabica coffee). Contains a combination of natural and artificial sweeteners. See Alternate Images for Nutritional Panel.
Unlike other Green Mountain Coffee K-Cup packs, our Café Escapes products are NOT Kosher. 
Brewing Tips:
For best results, we recommend that you:
Store Dark Chocolate Hot Cocoa K-Cup packs at room temperature.
Shake the pack before brewing.
Use the 8-oz. setting on your brewer.
Run a hot water brew cycle (without a pack) after brewing Dark Chocolate Hot Cocoa.
After brewing, Café Escapes K-Cup packs are hot and may drip. To prevent dripping, tilt the portion pack slightly when you remove it from the brewer.
Our cocoa brews hot! Always test before serving to young children.
About Café Escapes®
An anytime indulgence.
Every day, you should do something nice for yourself. Take a break. Relax. Recharge. Give in to a few delicious moments of "me time." Café Escapes® salutes this notion with a delectable collection of indulgent treats. They're rich, satisfying, and decadent — but not so much that you can't enjoy one every day. Whether you need an afternoon pick-me-up, or something to go with that hard-to-put-down book, Café Escapes is the perfect companion. Prepare a cup just for you and enjoy a moment of uplifting downtime.