Pumpkin Spice         K-Cup® Coffee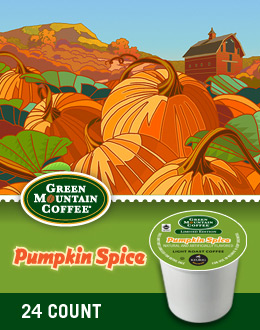 The sweet, creamy flavors of cinnamon and nutmeg make Pumpkin Spice just right for fall's crisper days and cooler nights.
Indulge in the fragrance and flavors of the season! Pumpkin Spice offers the experience of fresh-baked pumpkin pie — redolent with warm spice notes and creamy body — in this luscious Limited Edition coffee.
"Pumpkin Spice is nice! It makes a lovely holiday dessert coffee, when you add whipped cream or vanilla ice cream."
— Patty Vincent, Coffee Buyer: Fair Trade, Organics and Flavors